Get $700 Instant Savings with this Package
Get 2x EVELO Pannier Bags
With over 15 litres of cargo capacity, you'll never find yourself without the things you need on your trip!
Two expandable & fold-out side pockets, perfect for smaller items, like your EVELO charger, and a cavernous mid section, with plenty of pockets for your gear. A shoulder strap is also included for convenient transportation off of the bicycle.
.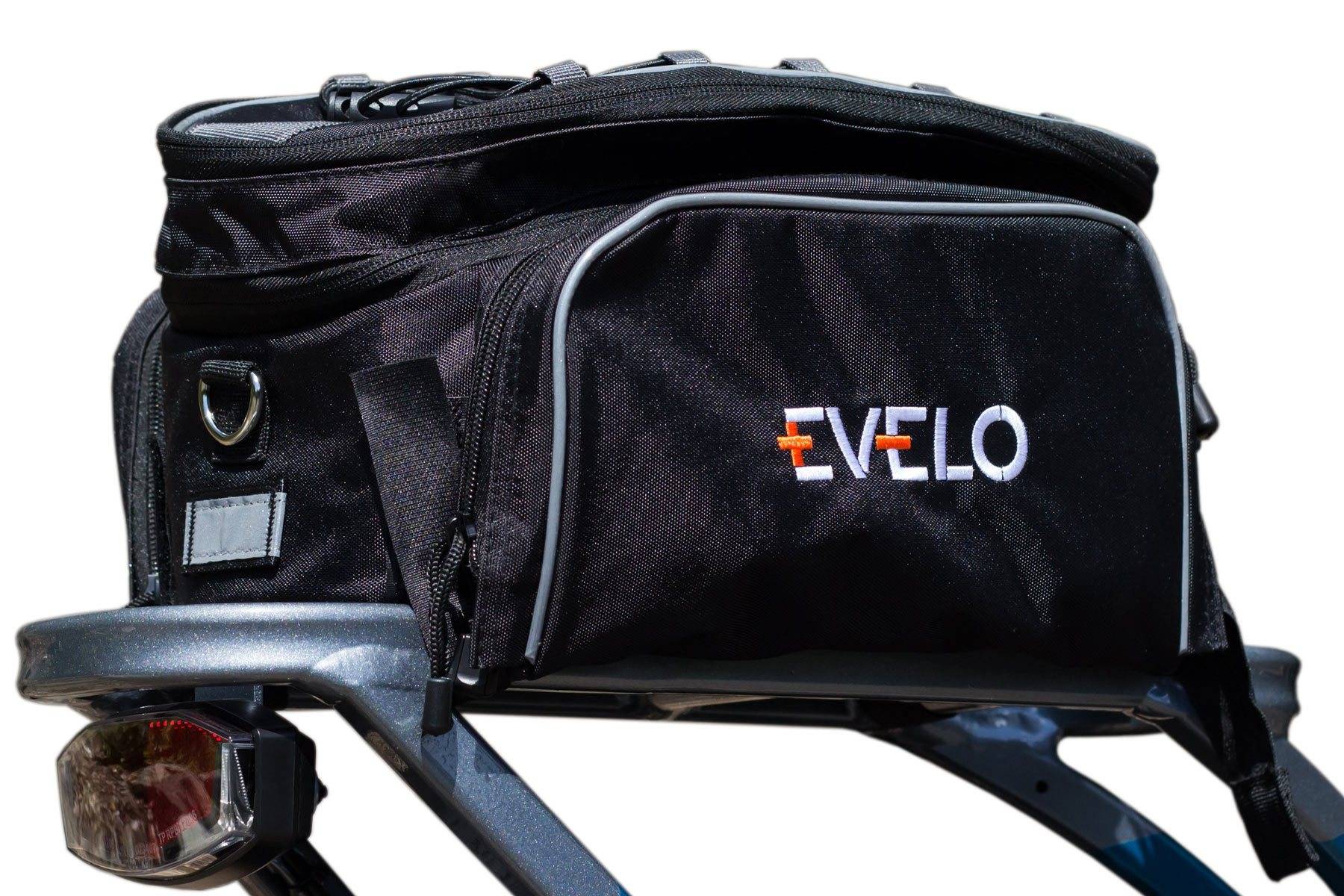 Plus 2x EVELO Quick Locks
Protect your new eBike with a secure pick-proof lock. It's lightweight for easy transport and 4ft long for convenient locking. Rolls up tight and fits right into your EVELO bag!
Secure hardened 8mm chain links
QuickLock system - key not needed to lock
Heavy-duty nylon protective sleeve - prevents scratches to bike -
Weighs 3lb 6.5oz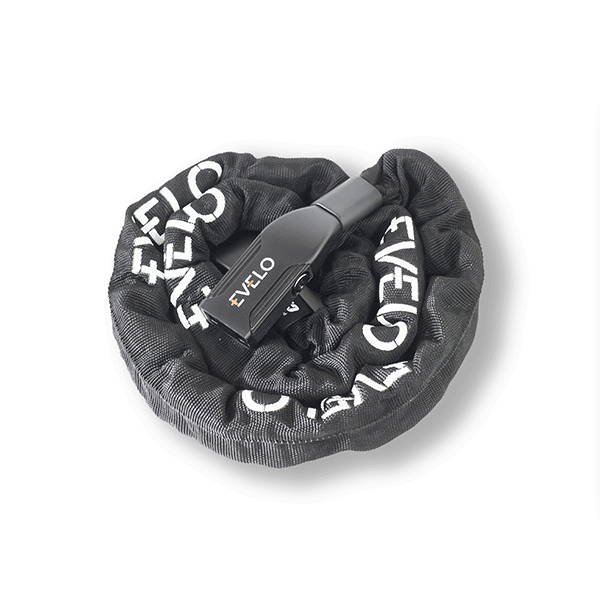 Lightweight with a powerful motor
The Dash uses one of the highest tech drivetrain systems anywhere in the world, packing a phenomenal amount of power into one of the smallest and lightest motor systems available. This motor system features a torque sensing pedal assist system, as well as a handlebar thumb throttle so you can pedal as hard as you wish, or not at all. Take this power, put it through the Gates Belt Drive, and into the Shimano internally geared hub, and you have a bulletproof drivetrain ready to travel wherever the road takes you.

Short charge time and up to 40 miles of riding range

Go the extra mile with EVELO's top-tier Li-ion cell technology. Our large semi-integrated frame battery offers extended range, and is easily removed for charging on or off your bicycle. With short charge times and up to 40 miles of range for your average rider, you can ride and explore more, and spend less time worrying about when to head back home.

The latest Dash includes a wide range Sturmey Archer 5 Speed Internally geared rear hub, which offers both top speed and low gearing for easy hill climbs. You can expect smooth accurate shifts and maintenance free operation with this Sturmey Archer gearing system. Both Sturmey Archer and the Gates companies have been around for over a century, so you can count on years of reliable and maintenance free performance from the entire drivetrain of the Dash.
Bringing back the fun & freedom of riding bikes for the last 10-years.


Bringing back the fun & freedom of riding bikes for the last 10-years.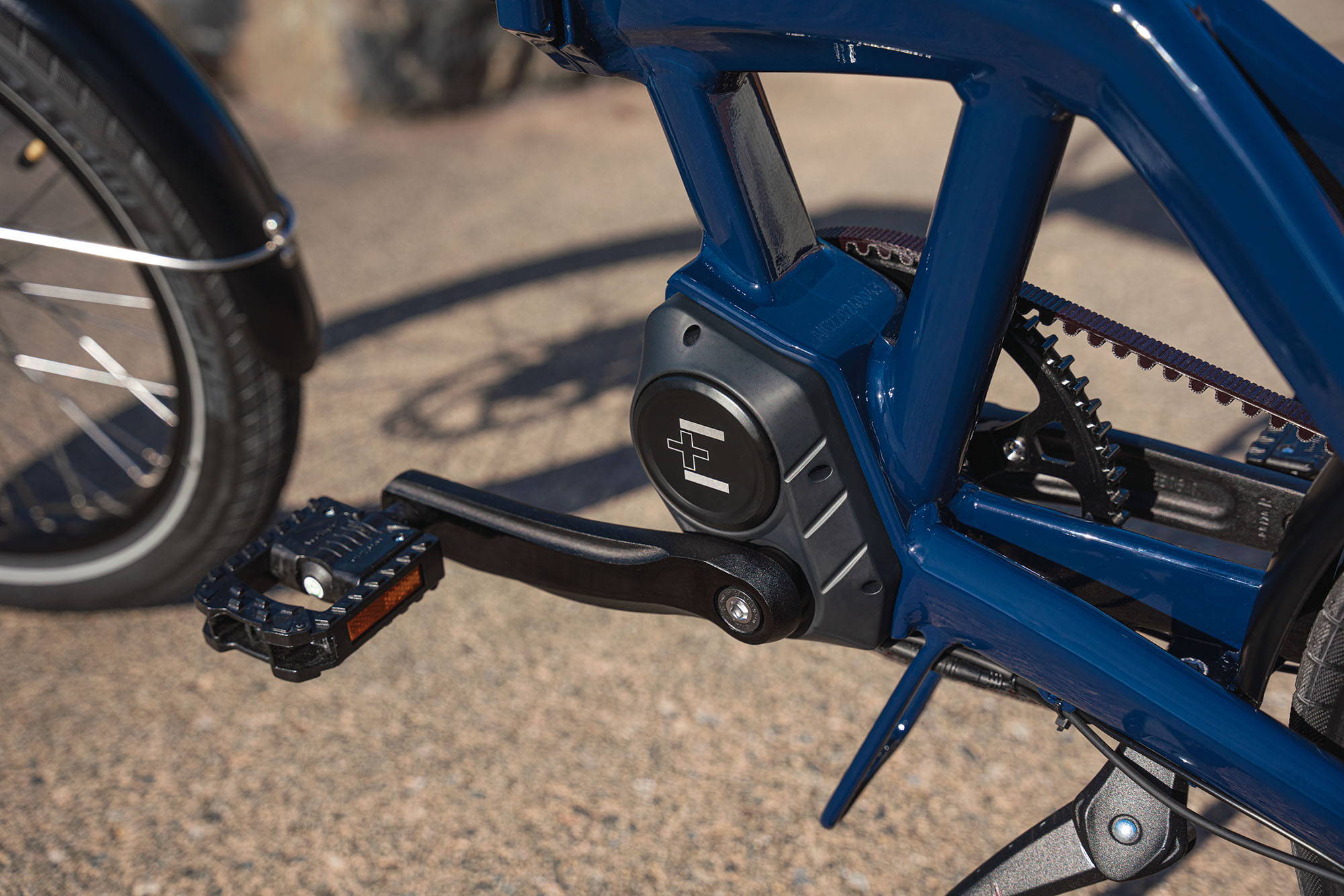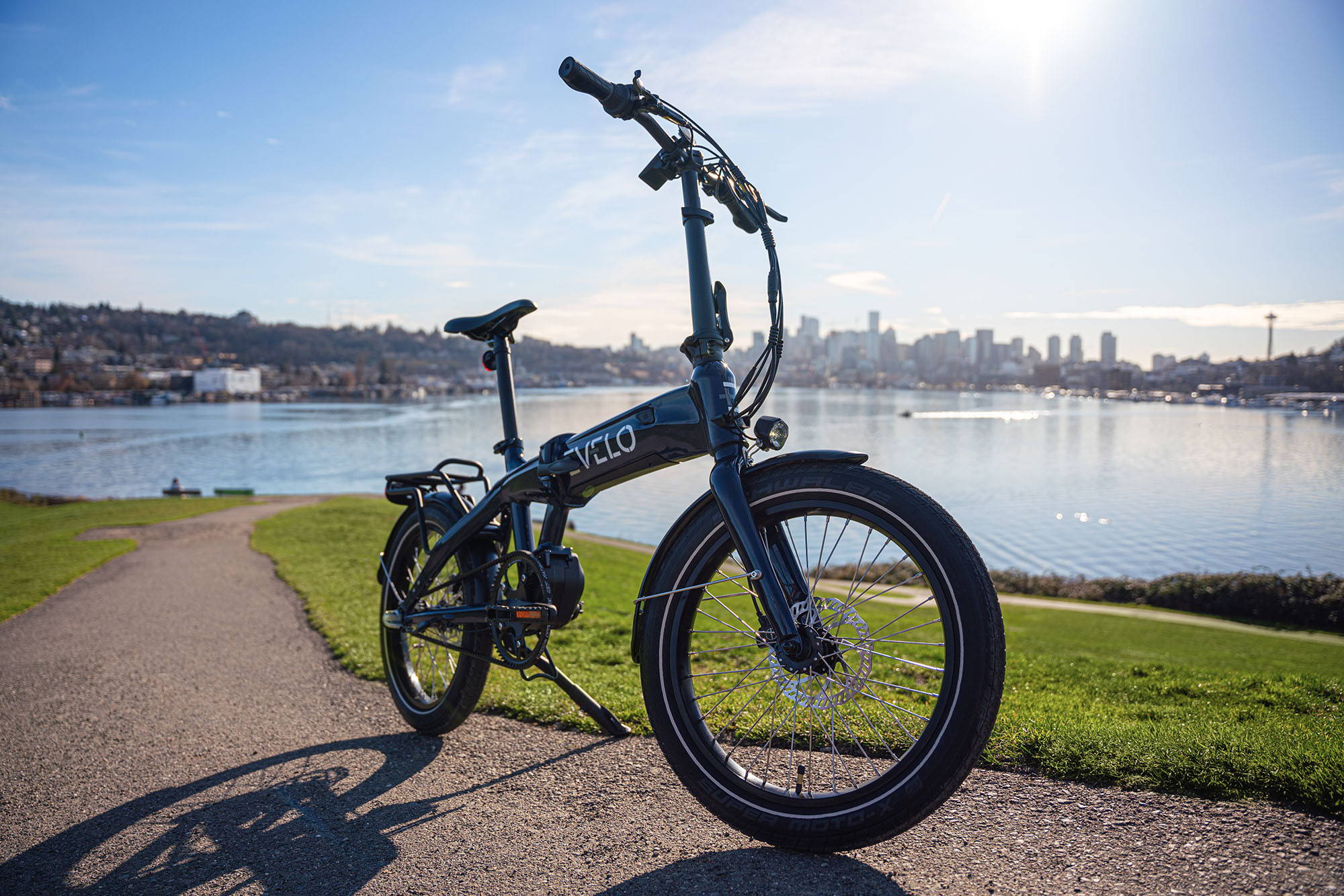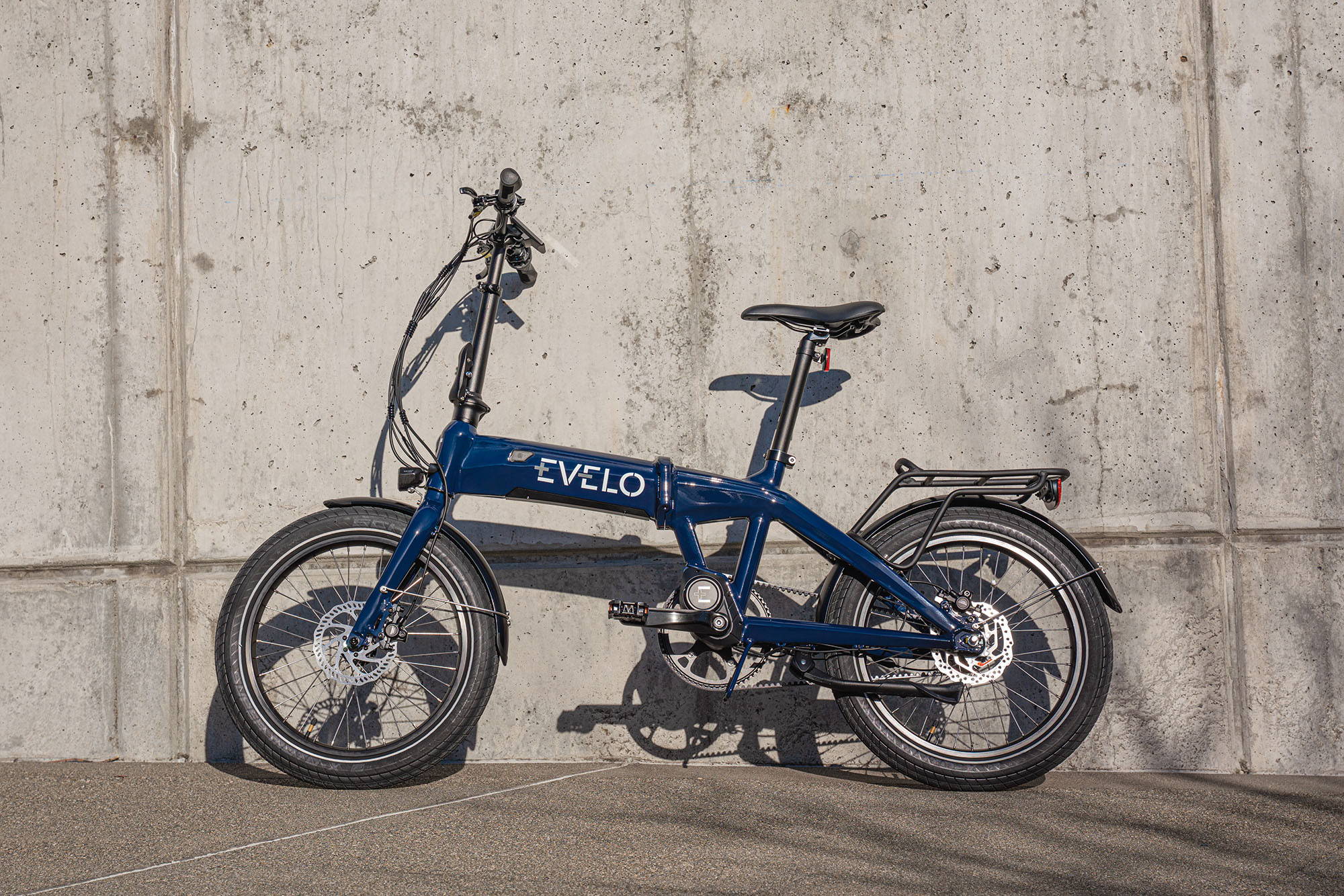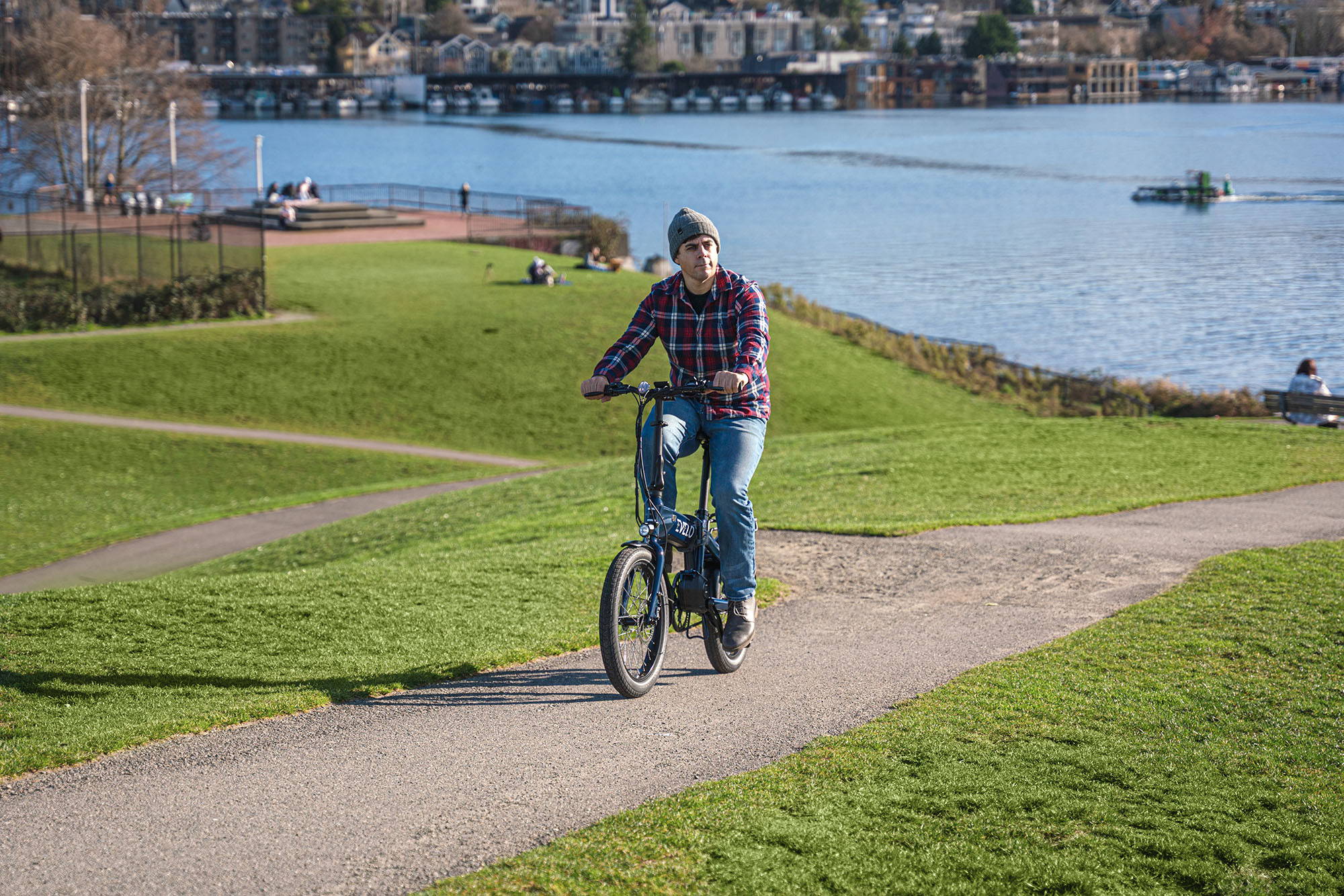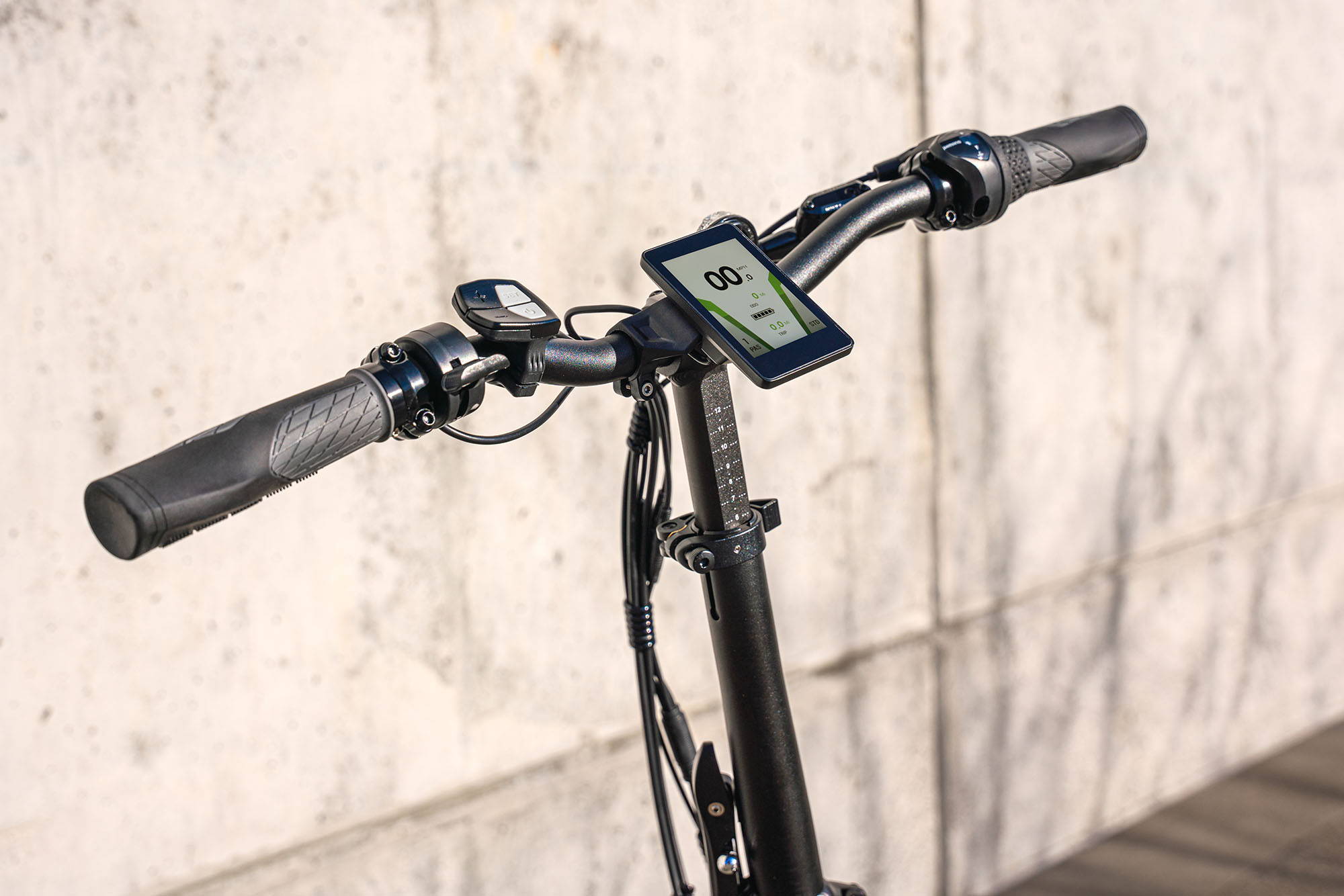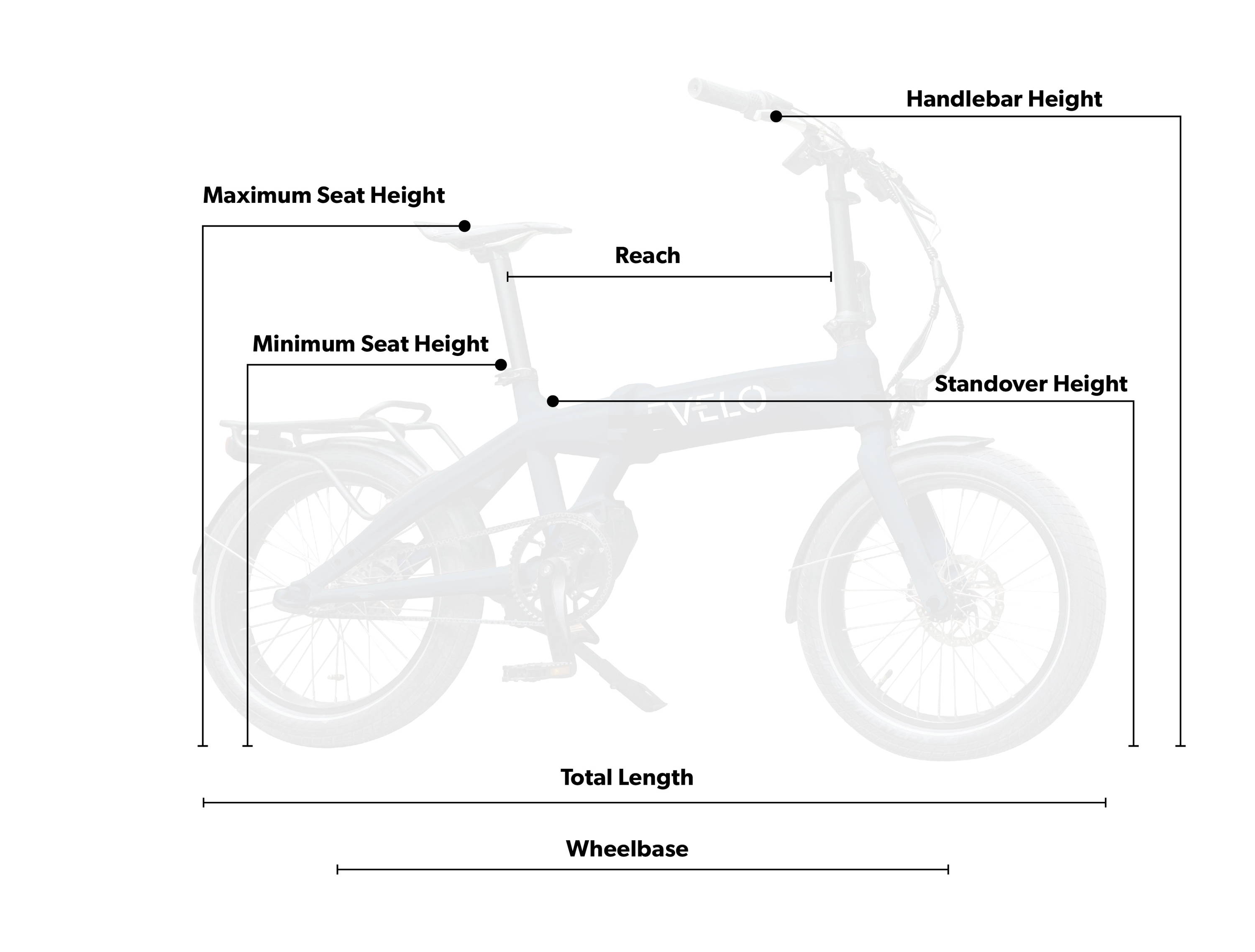 SIZING
Recommended Rider Heights

4'10" - 6'4"
Seat Height (Minimum / Maximum)

30" / 40"
Seat to Pedal (Lowest / Highest)

24" / 34"
Reach (Saddle to Handlebar)

26"
Handlebar Height

36" - 42.5"
Total Length (Tire to Tire)

64"
Wheelbase (Center to Center)

40"
Folded Dimensions (Seatpost removed)

39" x 17.5" x 25.25"
Dapu M65X 4.8lb, 70 N.m torque, 350W Mid-Drive Motor w/ Torque Sensor

Sturmey Archer RX-RK5 5 Speed Internally Geared Hub

Maximum Motor-Assisted Speed

Up to 20 MPH, Pedaling and Throttle Only

Up to 40 Miles on Pedal-Assist or 20 Miles on Electric-Only

5 levels of Pedal Assistance and handlebar mounted Throttle

Custom Lightweight Aluminum Folding Frame with Integrated Battery

Aluminum Alloy Fork with Fender Braze-Ons

36H 45mm wide Double Wall Alloy Rims with 13g Spokes

Puncture Resist Schwalbe Moto X 20×2.4" Tires

Tektro Hydraulic with motor cutoff switches, 160mm Rotors

Selle Royale Astro Comfort Saddle
Sturmey Archer Handlebar Mounted Grip Shift

EVELO Quick Folding & Height Adjustable

Gates CDX Heavy-Duty Carbon Belt, 70T, 20T Rear Cog

5 Speed Internally Geared Sturmey Archer RX-RK5

Sturmey Archer Handlebar Mounted Grip Shift

Fully Integrated Front and Rear Lighting

All Weather Front and Rear Fenders

Cargo Rack, 45 lb. Weight Capacity

Bicycle Weight (without battery)


Recommended for riders up to 275 lbs. Larger riders can be accommodated – contact us for details.

39"x17.5"x25.25" (with seatpost removed)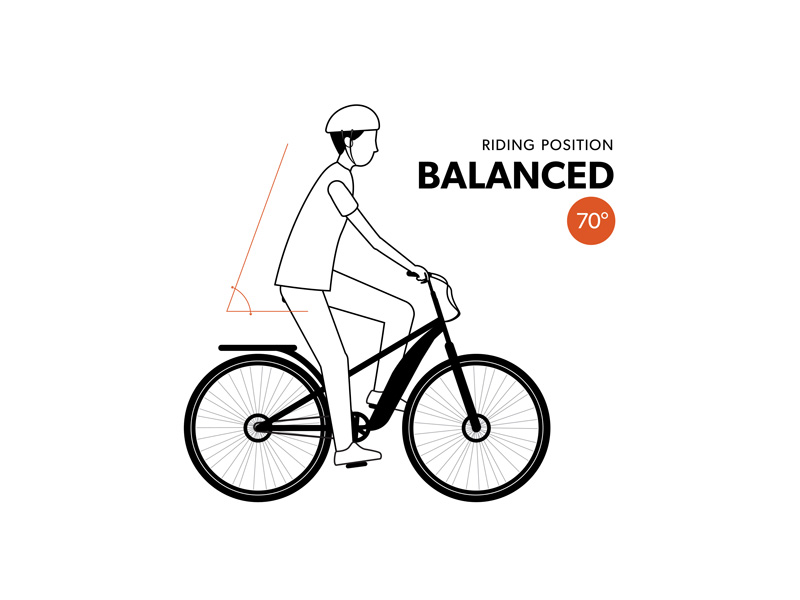 Leaning slightly forward, with your weight balanced between your hands and the saddle. It gives you a slightly sportier, more agile handling, with a comfortable ride and no strain on your lower back.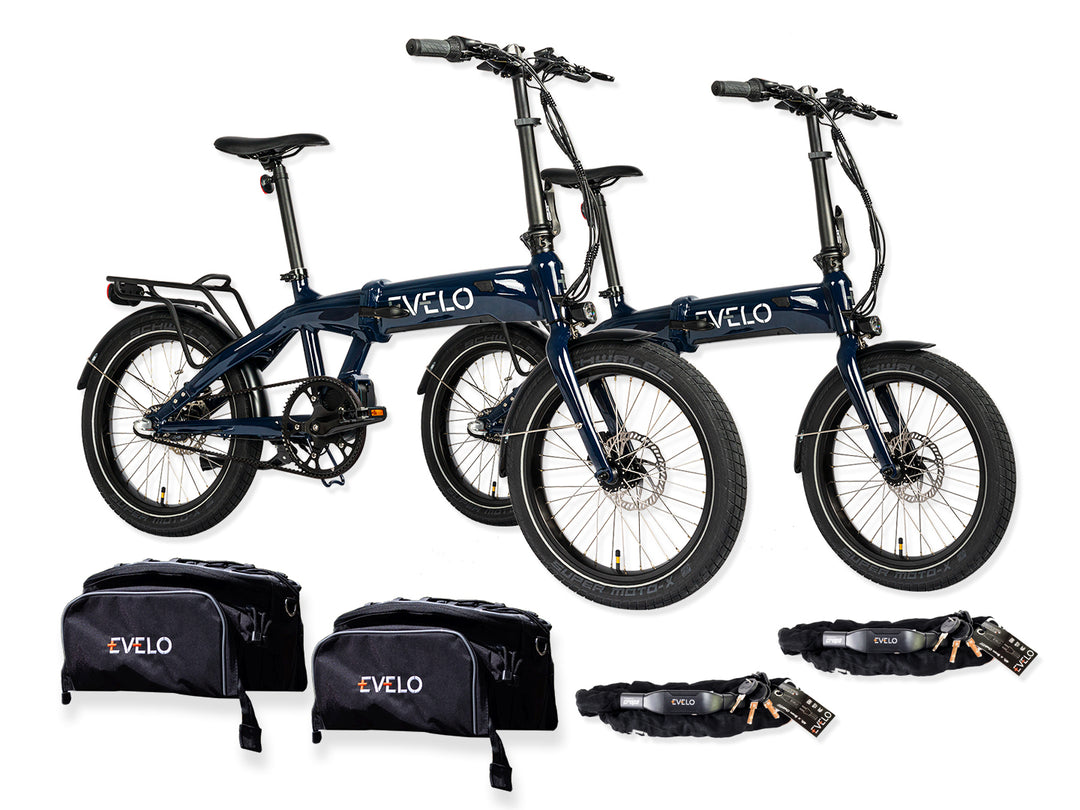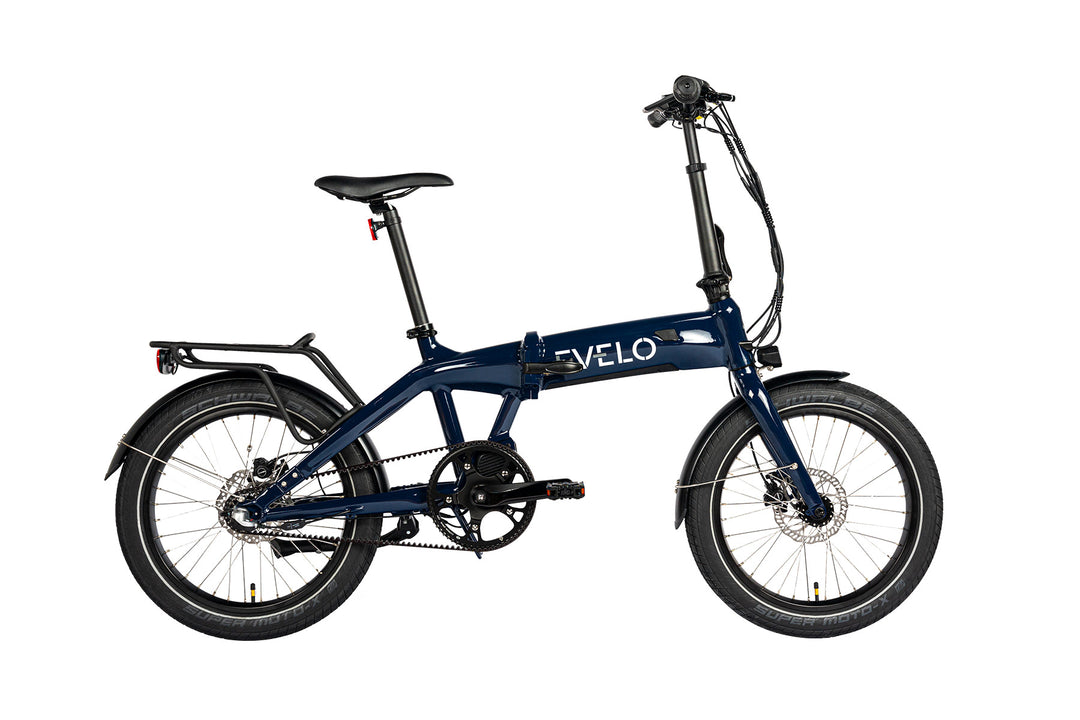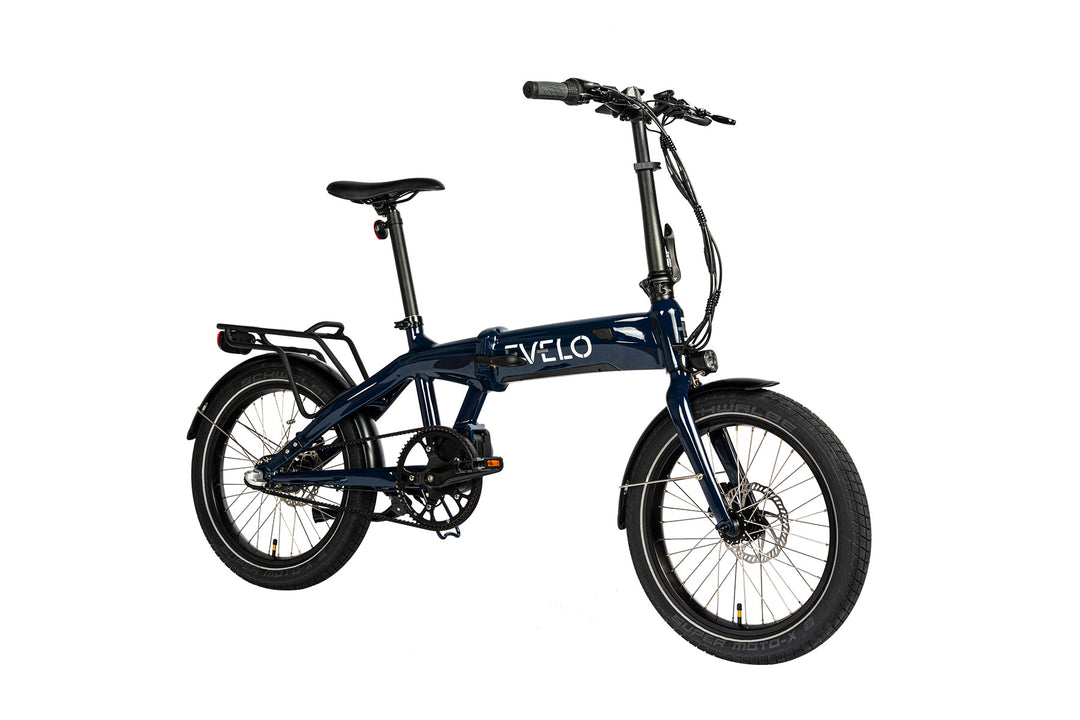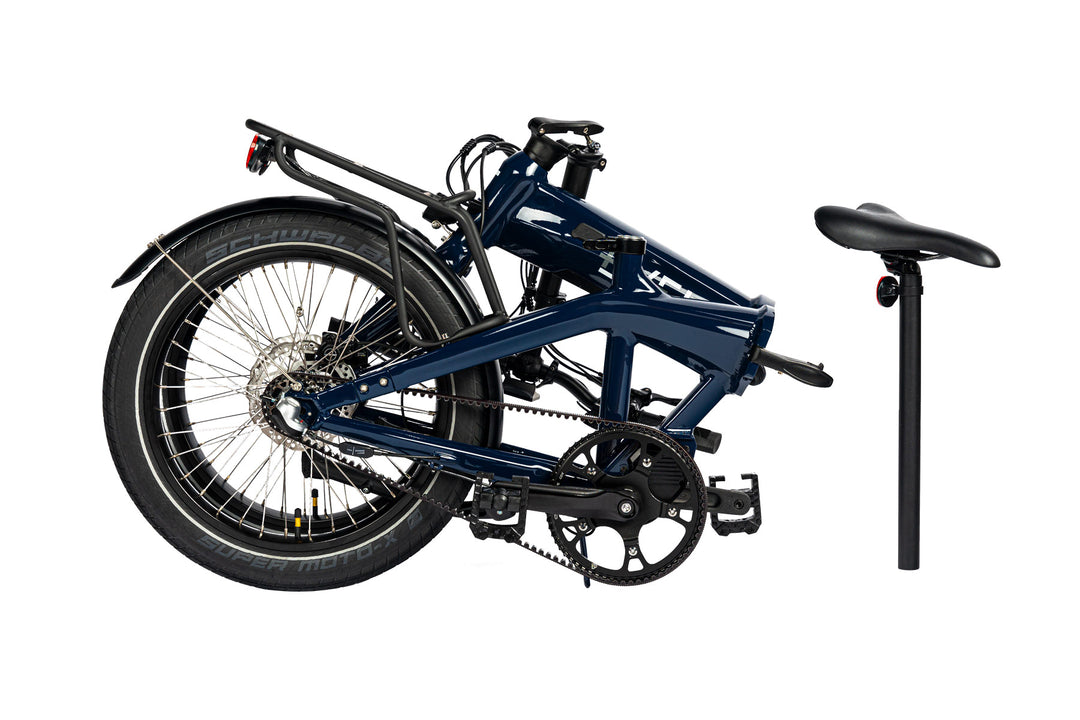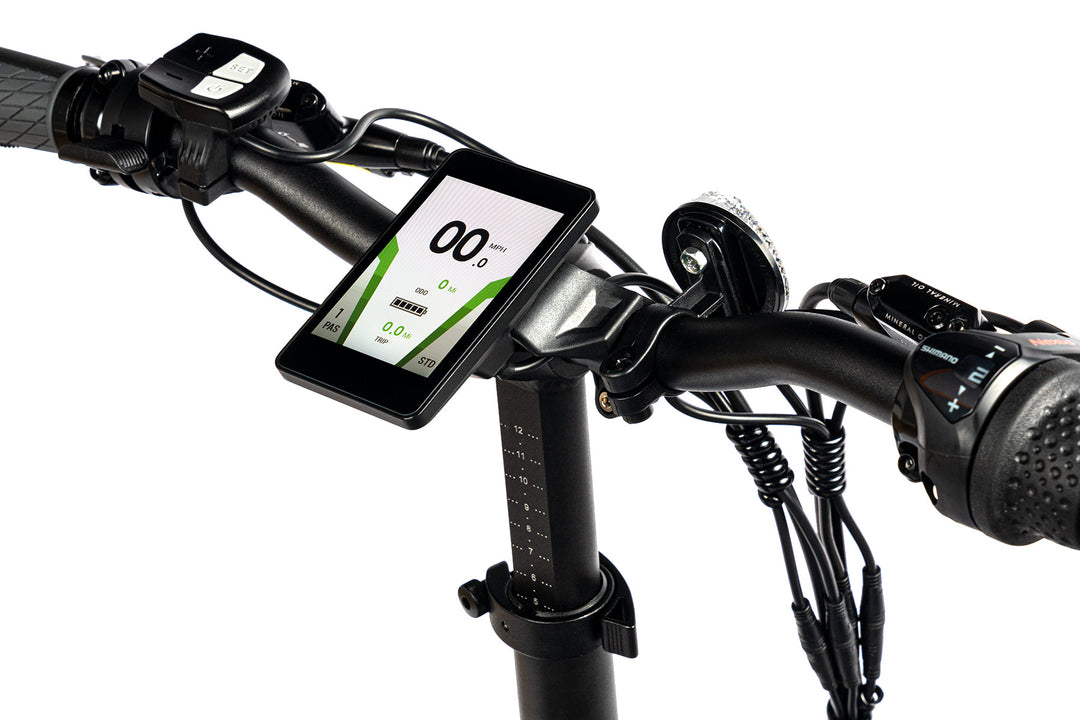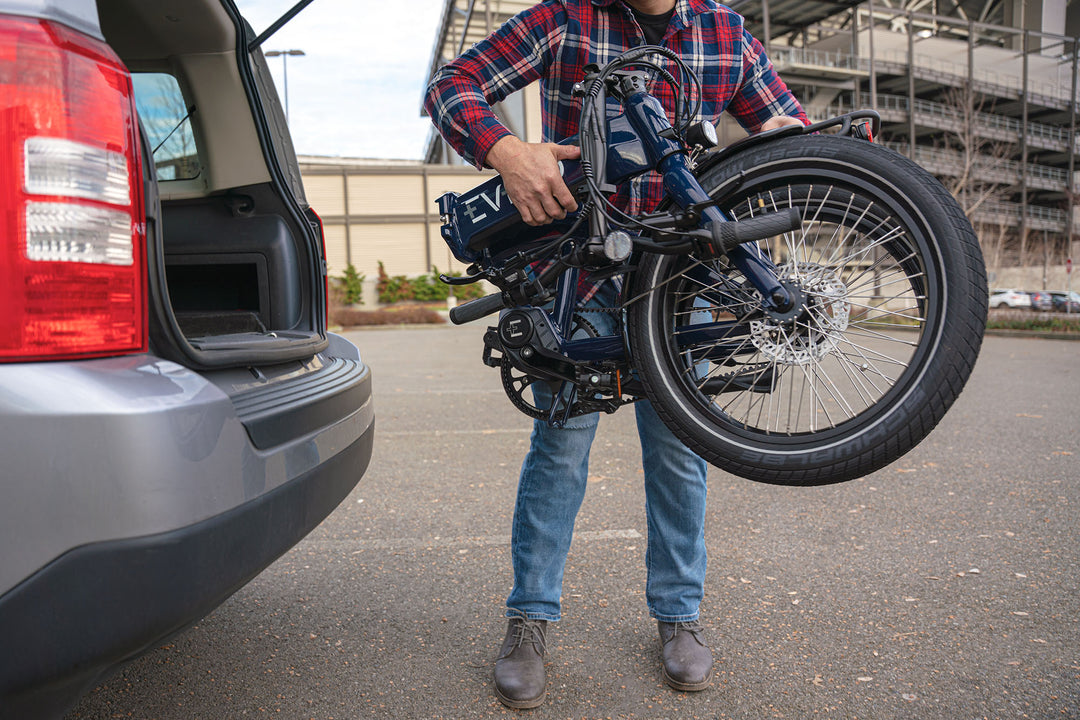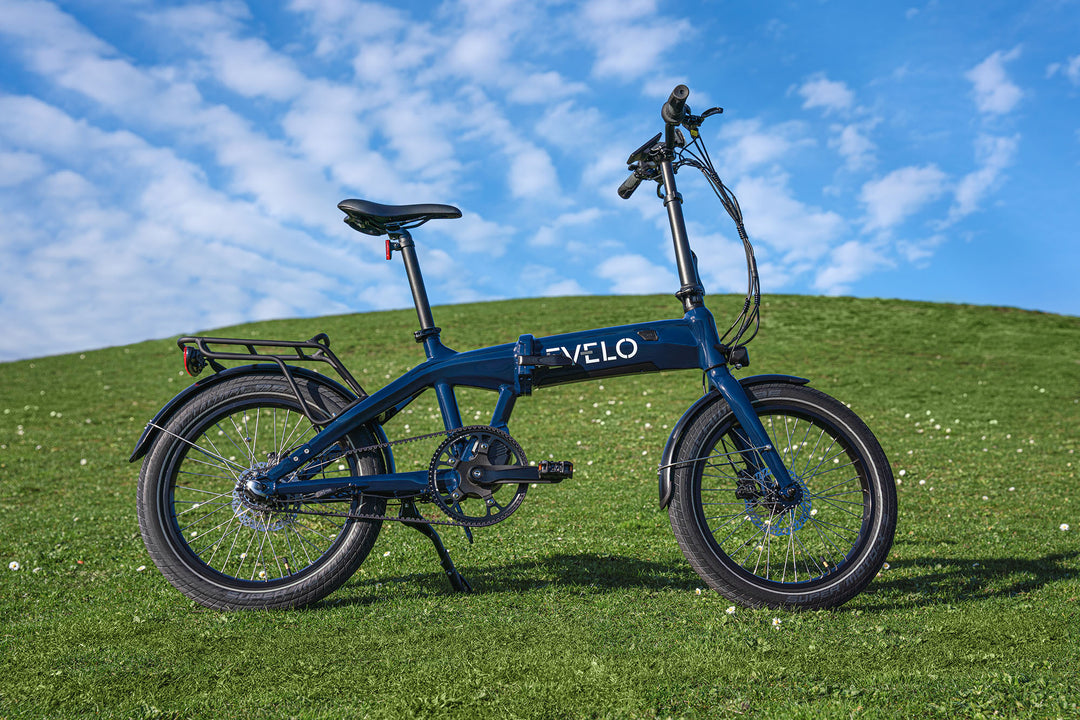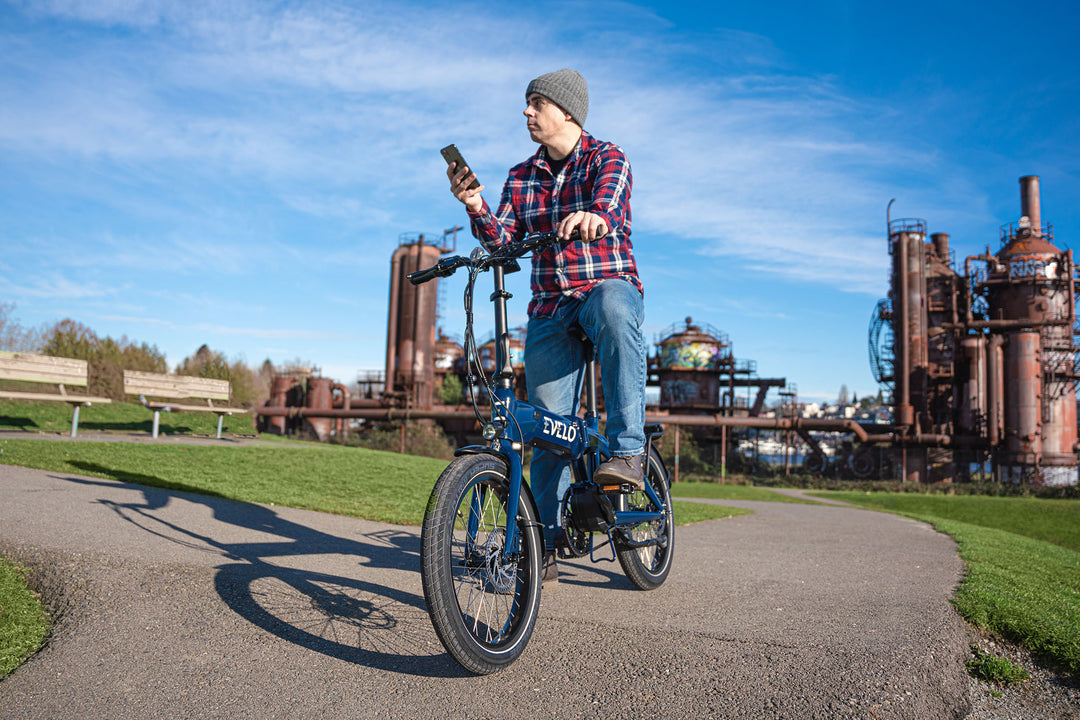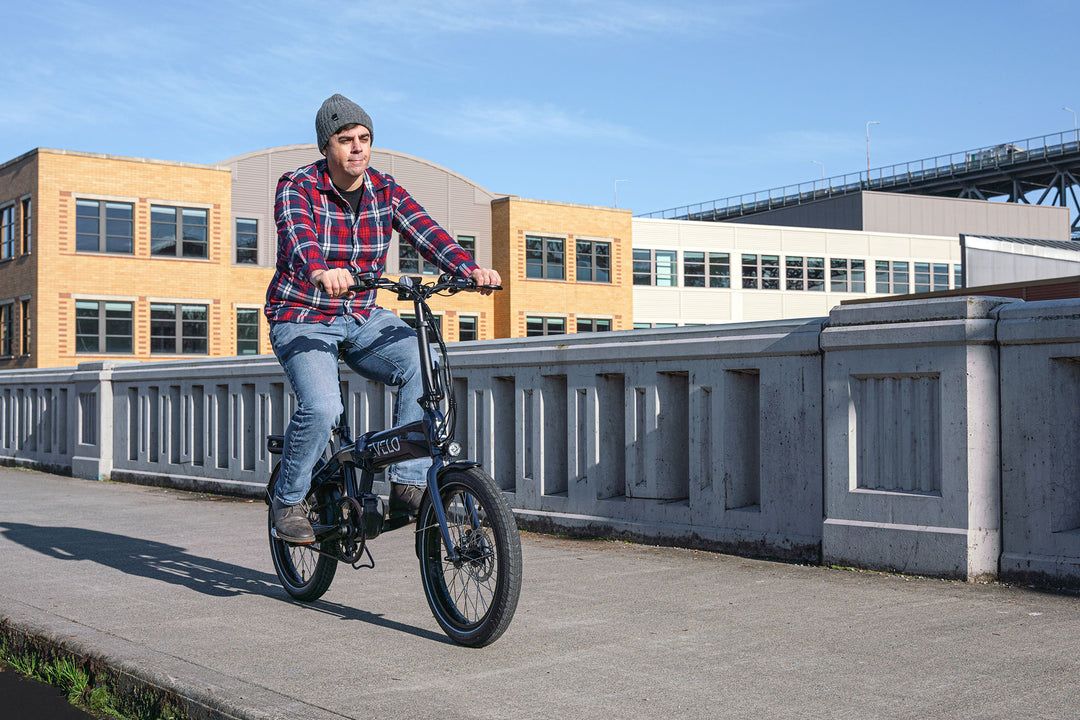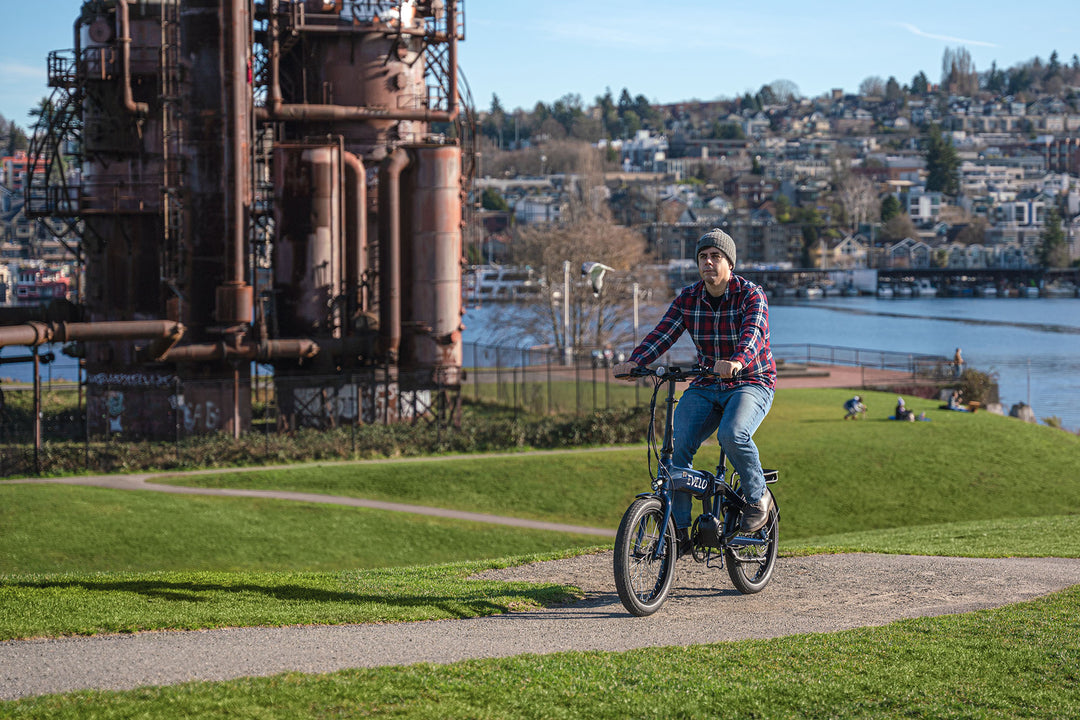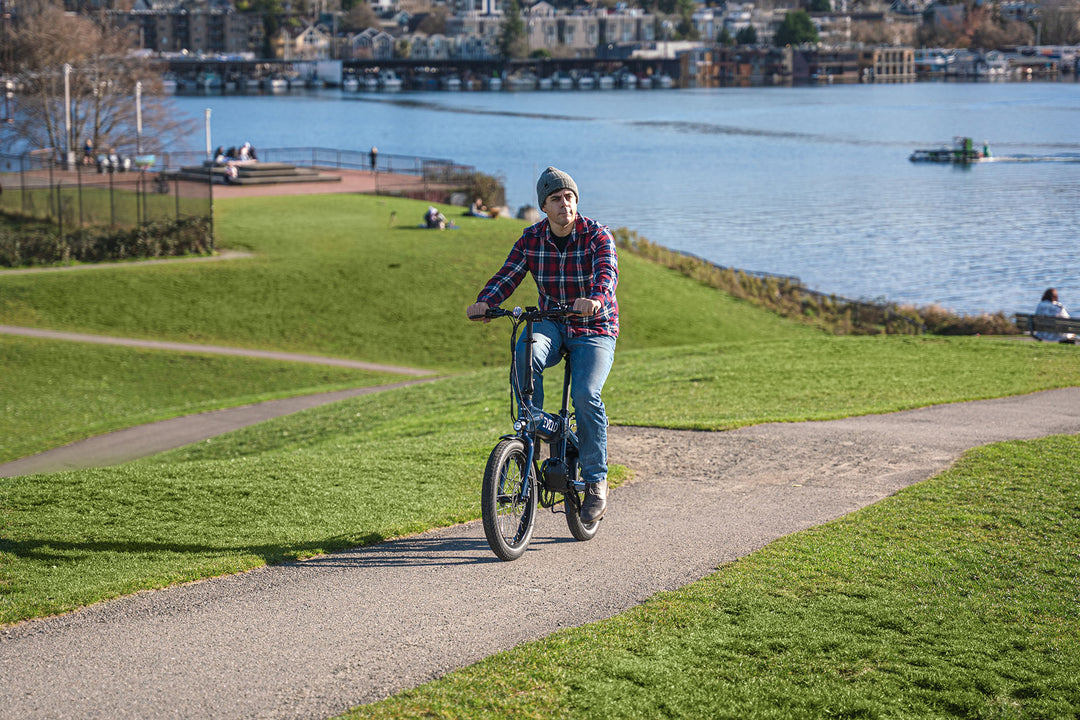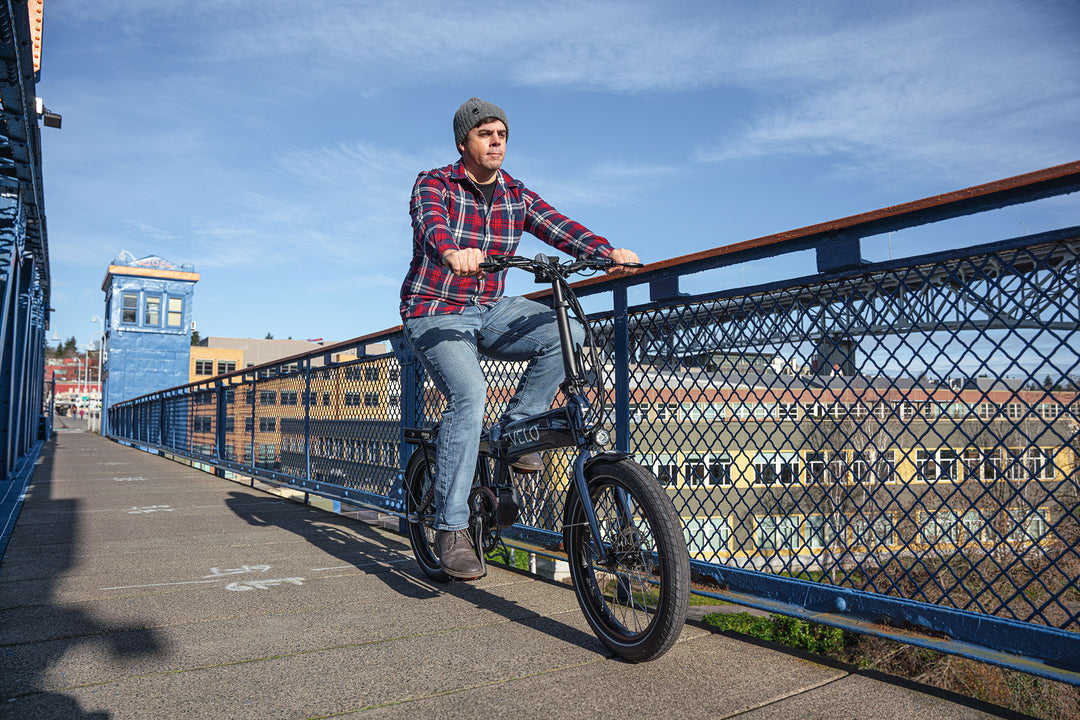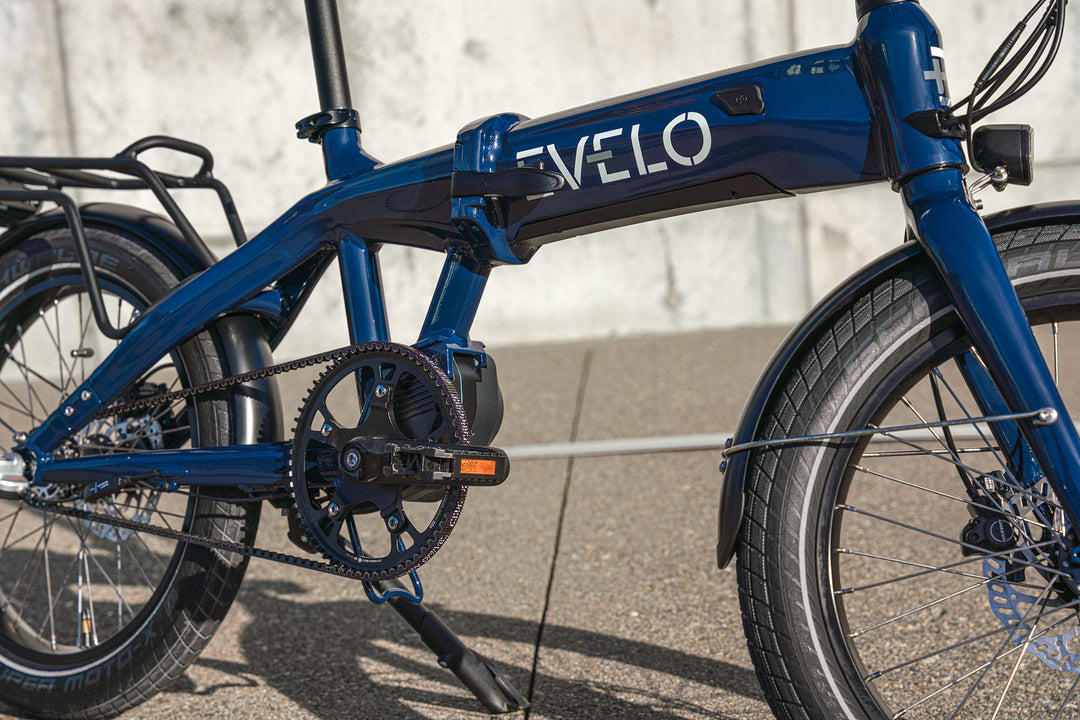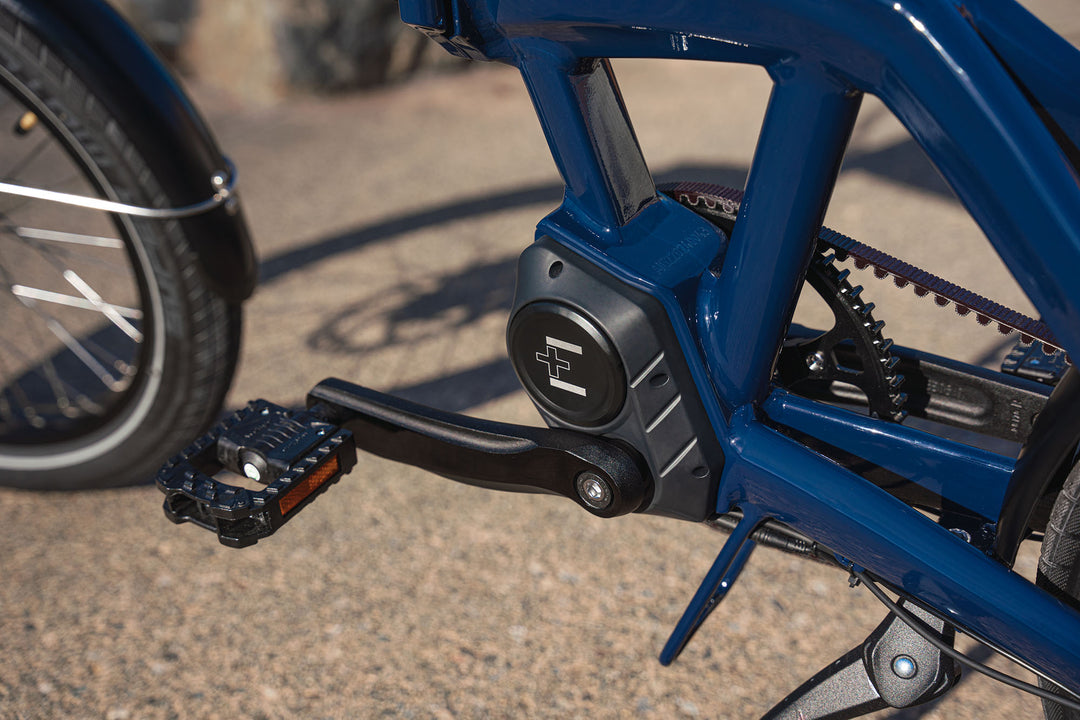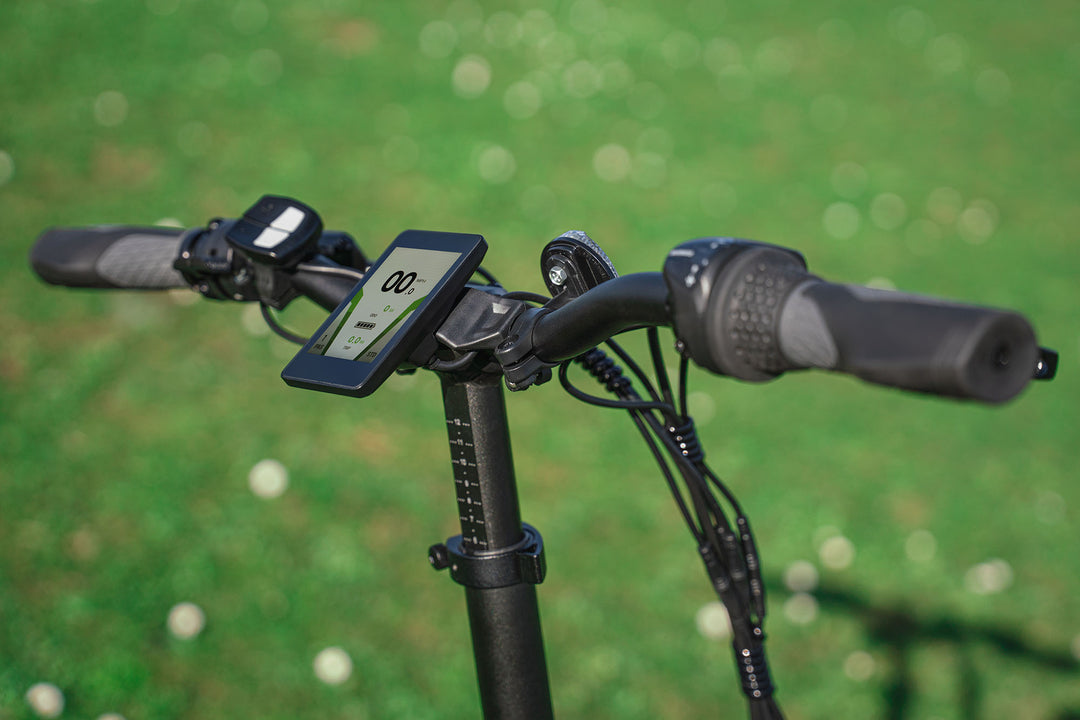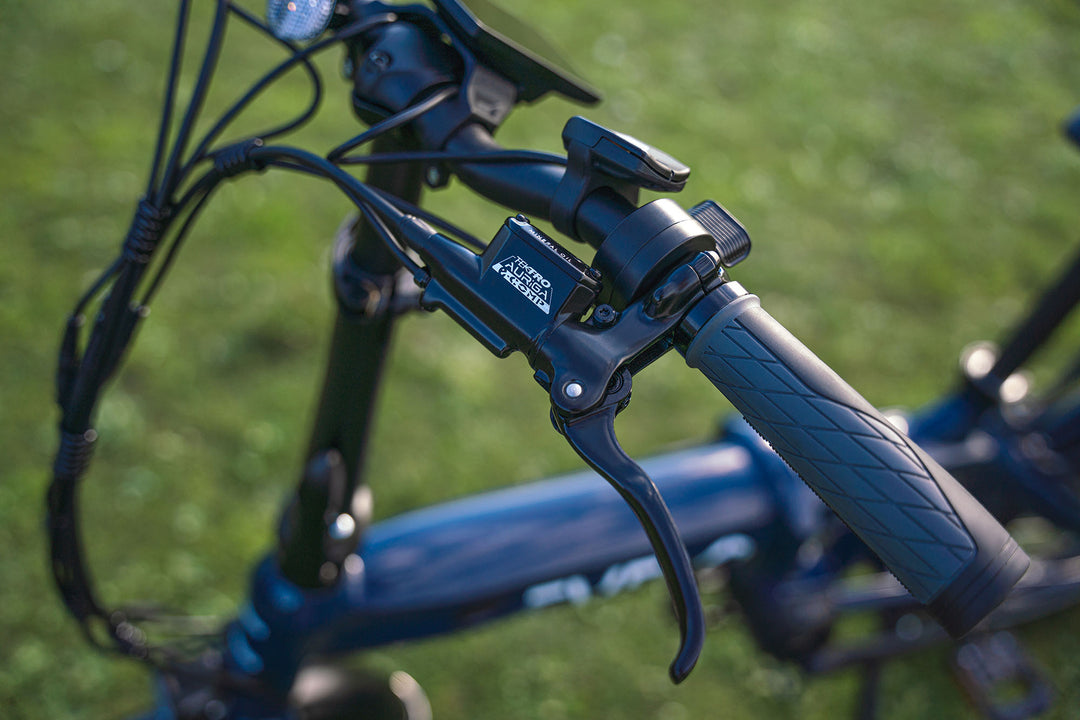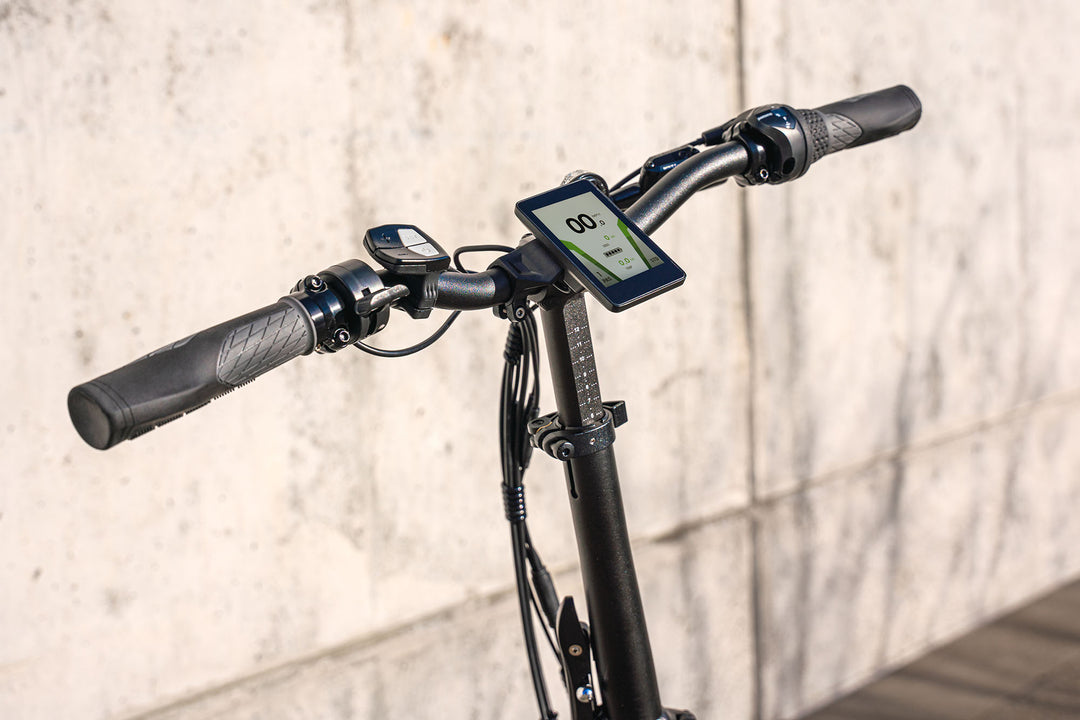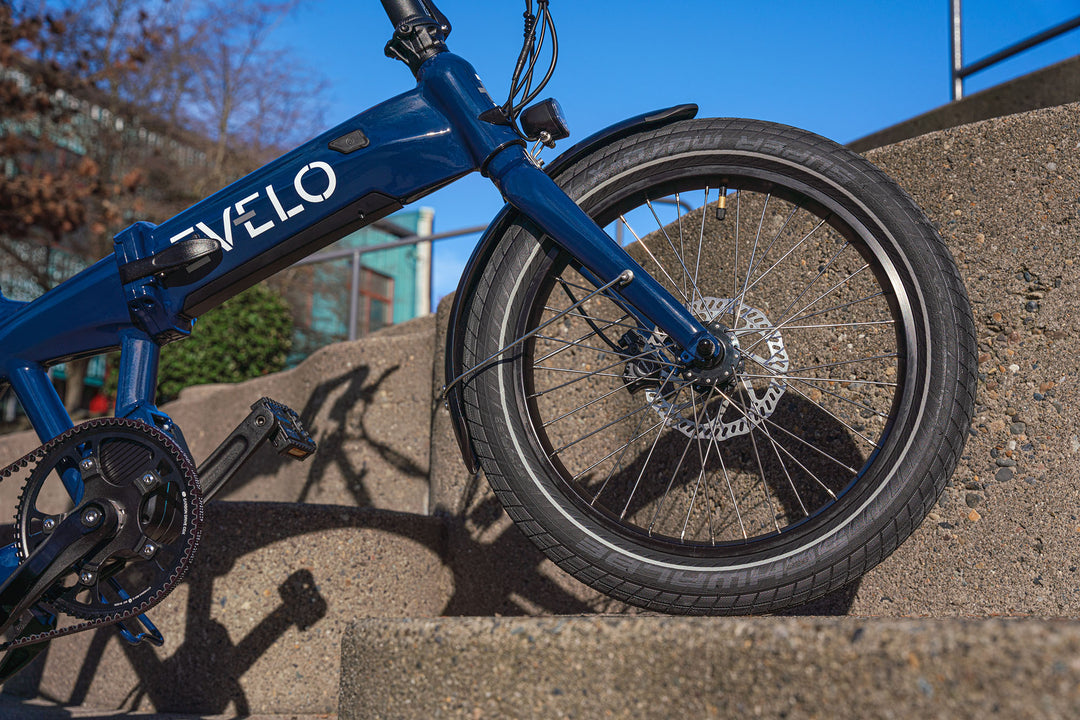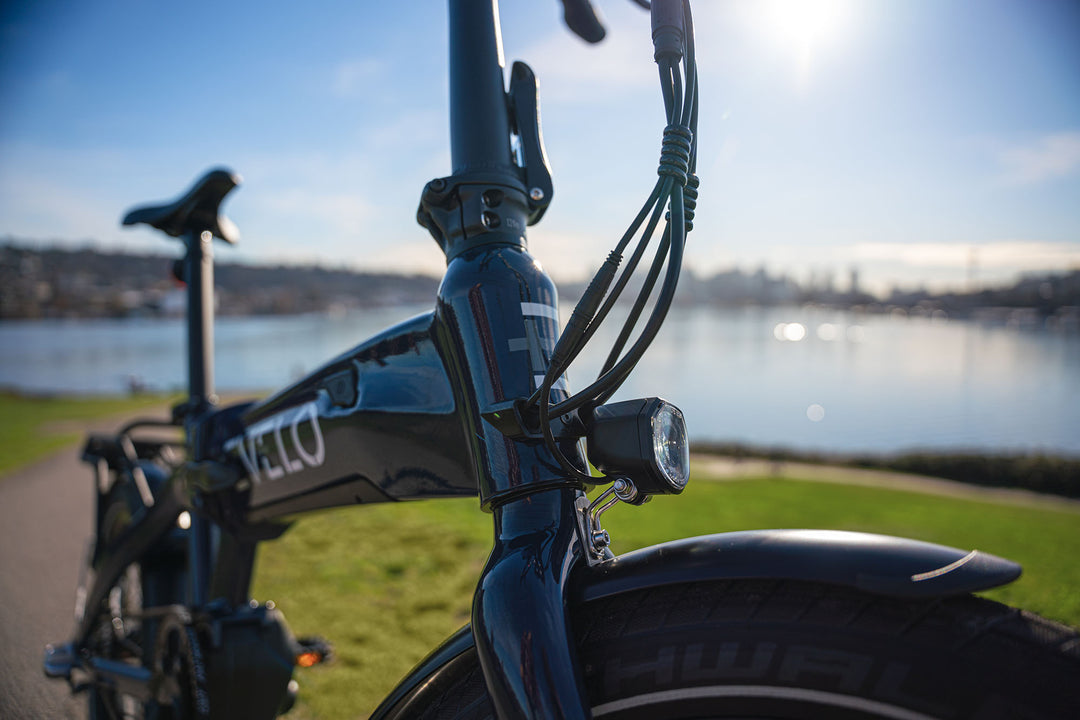 Is the EVELO Dash a good choice for me?
Lightweight? Check. Folding? Check. Powerful Mid Drive, Gates Carbon Belt, Internally Geared Hub, Pedal Assistance and Throttle? Check. If you're looking for a folding bike that is as versatile as you, the Dash will not disappoint.

Does the Dash have enough power for my terrain?
The Dash has a powerful mid drive motor system with ample amount of torque. Since it is lighter weight and has smaller wheels, we intentionally kept the drivetrain at 350 Watts, as it's the most efficient and appropriate power to weight ratio for a folding bike. It's smooth and buttery motor assistance will make you feel like a superhero on your ride.

Will I fit properly on the Dash?
The Dash, along with most folding bikes, come with an extra long seatpost to fit an extremely wide range of riders on the same frame design. The handlebars go up and down easily, as does the saddle itself. If you're extra tall or on the shorter side - take a peek at the measurements available in the sizing section, and compare those numbers to your current bicycle.